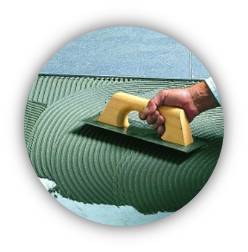 Better Workability
The shear-thinning and air-entraining properties of Haihao give Haihao modified tile adhesives a better workability, as well as higher work efficiency, from yield/coverage and faster tiling sequence stand points.


Improves Water Retention
Haihao improves water retention in tile adhesives. This helps increase final adhesion strength as well as prolong open time. Prolonged open time also leads to faster tiling rate as it allows the worker to trowel a larger area before setting the tiles down, as opposed to troweling the adhesive onto each tile before setting the tile down.


Provides Slip/Sag Resistance
Haihao also provides slip/sag resistance, so that heavier or non-porous tiles do not slip down the vertical surface.


Increases Adhesion Strengths
As mentioned before, Haihao allows the hydration reaction to complete farther, thus allowing higher final adhesion strength to develop.